Our team
SymVest Team
A successful team must be more than collection of individuals. Our team members complement each other, draw from each others' experiences. They learn from successes and failures and create opportunities for each other and for our clients. Because we have a team of highly experienced professionals living and working in several countries we can bring a wide range of services and resources to our clients. Our clients gain access not only to our team, but to the wide network of professional and personal contacts each of our team members has cultivated over the span of their careers. This network of contacts includes business leaders, entrepreneurs, researchers, economists, political analysts and public policy makers.
---
Michael Sonenshine
Founding Partner, Investment Principal
Michael Sonenshine is responsible for the development of the Group's business. He is the architect driving the establishment of a Peer to Peer lending platform in Central Europe, under the SymCredit brand. He also leads the Investment Committee for the Symfonie Angel Venture Fund and the Symfonie Lending Fund.
Michael Sonenshine is the Founding Partner of the Symfonie Capital, LLC and the Investment Principal primarily responsible for managing credit products focusing on Global High Yield markets both in Western Europe and Eastern Europe. Before founding Symfonie Michael Sonenshine was Investment Principal at MT Thaler Investment Management. He was responsible for selection of investments in credit instruments, both performing as well as distressed. Prior to joining MT Thaler he held senior credit research positions at Credit Suisse First Boston and ING Bank. He was ranked among the top analysts in Institutional Investor, EuroMoney and Credit Magazine. Prior to his work as a high yield analyst Michael Sonenshine was General Manager of ING Investment Management, Czech Republic. Under his leadership, ING Investment Management managed approximately US$250 mn and launched three Luxembourg domiciled, Czech Koruna denominated investment funds. These funds were the first of their kind in the Czech market and outperformed their benchmarks. Prior to working for ING investment management, Michael Sonenshine was senior Equity analyst at ING Barings focused on Russia and Central Europe. Sonenshine earned his CFA designation in 1999. He holds an MBA from the William E. Simon School at the University of Rochester, where he specialised in Finance and Public Policy. He also holds a B.A. in History from Tufts University.
Arnaud Bricout
Lipa Real Estate Fund Investment Principal
After graduation, Arnaud Bricout spent the first 16 years of his career in financial markets as General Manager of the brokerage firm Fortis Securities after a very successful MBO. During this time he handled more than 20 IPOs. Joining Orco Property Group, a former corporate client,  he undertook more than 1000 road-shows globally within 6 years, raising close to 1 Billion Euros through different instruments including straight equity, step-up equity programs, commons bonds, convertible bonds or bonds with warrants attached. Arnaud also collaborated on the launch of Endurance Real Estate Fund with 2 sub-funds managing CEE investment properties and development with a value of  250 mil. EUR. Currently he is a Senior Advisor of Impulse Corporate Finance, a fund raising and advisory service based in Paris. He still manages his own portfolio of flats in Prague.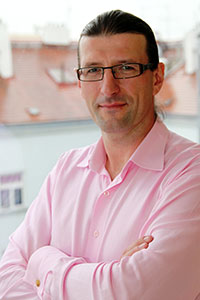 Paul Kucera
Senior Consulting Associate
Symfonie's Partner responsible for business development, marketing and communication, Paul Kucera has been active on CEE markets since arriving from Australia in the early 90s. Within SymVest he is has co-responsibility for pipeline development and partner management for both the Lipa Real Estate and Microbrewery funds.
A recognized expert, he has a wealth of legacy and start-up communication experience. Having been involved in a host of new projects as well as having worked for numerous corporations and brands, he understands intimately both the needs of today's owner/visionaries as well as top managers.
His prior experience includes work in advertising, marketing and public relations / public affairs. Sector experience includes: defense, telco, public sector, FMCG, petrochemical, mining, industry, pharma, finance, banking and NGOs. He was Board Member of the Czech PR agency association (APRA) on several occasions as well as an ICCO (global PR agency association) executive board member in 2002-2004 and co-authored the current internationally accepted Stockholm PR Charter.
David MacKinnon
Senior Consulting Associate
David is an accomplished life sciences & information technology executive, entrepreneur and recognized leader in sales, marketing and business development.
An experienced leader and strategic thinker David has successfully led industry-recognized sales & marketing teams, both in the multi-national corporate setting and the high growth new venture life sciences and health information technology (HIT) sector. Hailing from Canada, David is our point person for operations and client business in North America, assisting with EU companies wanting to enter this market and vice versa. David is committed to collaboration and developing value-based relationships. Whether it be internally involving staff and colleagues or working with partners and clients, teamwork is always the focus, having partnered with competitors, academic institutions, professional associations and others across Canada, the United States, Europe and Japan.
Pavel Prchal
Microbrewery Fund Investment Principal
Pavel Prchal has been professionally involved in beverage and beer production, sales and management for close to 30 years. He studied building engineering, but soon realized his true passion was beer.His beverage career began at the iconic craft brewery Bernard, followed by a stint with a local distiller and then decades as sales director and in management at various breweries with 5 years as business and operations director at a bottled water thrown water company thrown in for good measure.